Crazy month!
Well, my baby is 1! Can you believe it? One whole year ago I gave birth to the most precious little boy. 18 hours of labor, but so worth it. I'd do it all over again (and I guess I get to...haha). We had a party for him last Saturday, and had over my best friend Shannon and her family, my parents and Dan's parents. Just enough people to have a great party, but not too many that I couldn't sit and talk with people. It was perfect. Nicholas had a lot of fun too, and that made the day just splendid. Temperatures outside were in the 70's. Just perfect.
Here are some cute pictures of the birthday boy:
The cake before....
During...Yummy!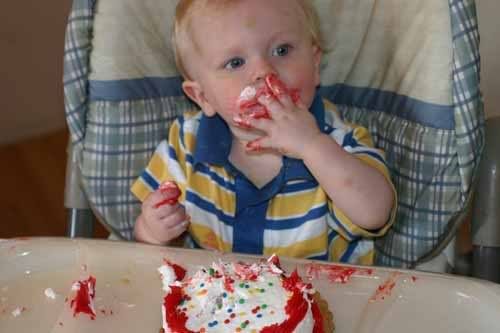 Who needs hands?
All done! Frosting in the nostrils too!
What a day! I can't wait to scrap these pics. I just don't have time to do it right now...someday soon I'll do it though.
And since I'm in a generous giving mood, I thought I'd give ya'll a freebie for stopping by. The Muddy Buddy Kit I mentioned one other blog post. Hope you enjoy it, I know I had a ton of fun making it. It's got a cute alpha that I'm really proud of (as brushes too!) Please leave a comment!! I love love love reading them!
Click
HERE
to download. Happy Scrappin'!